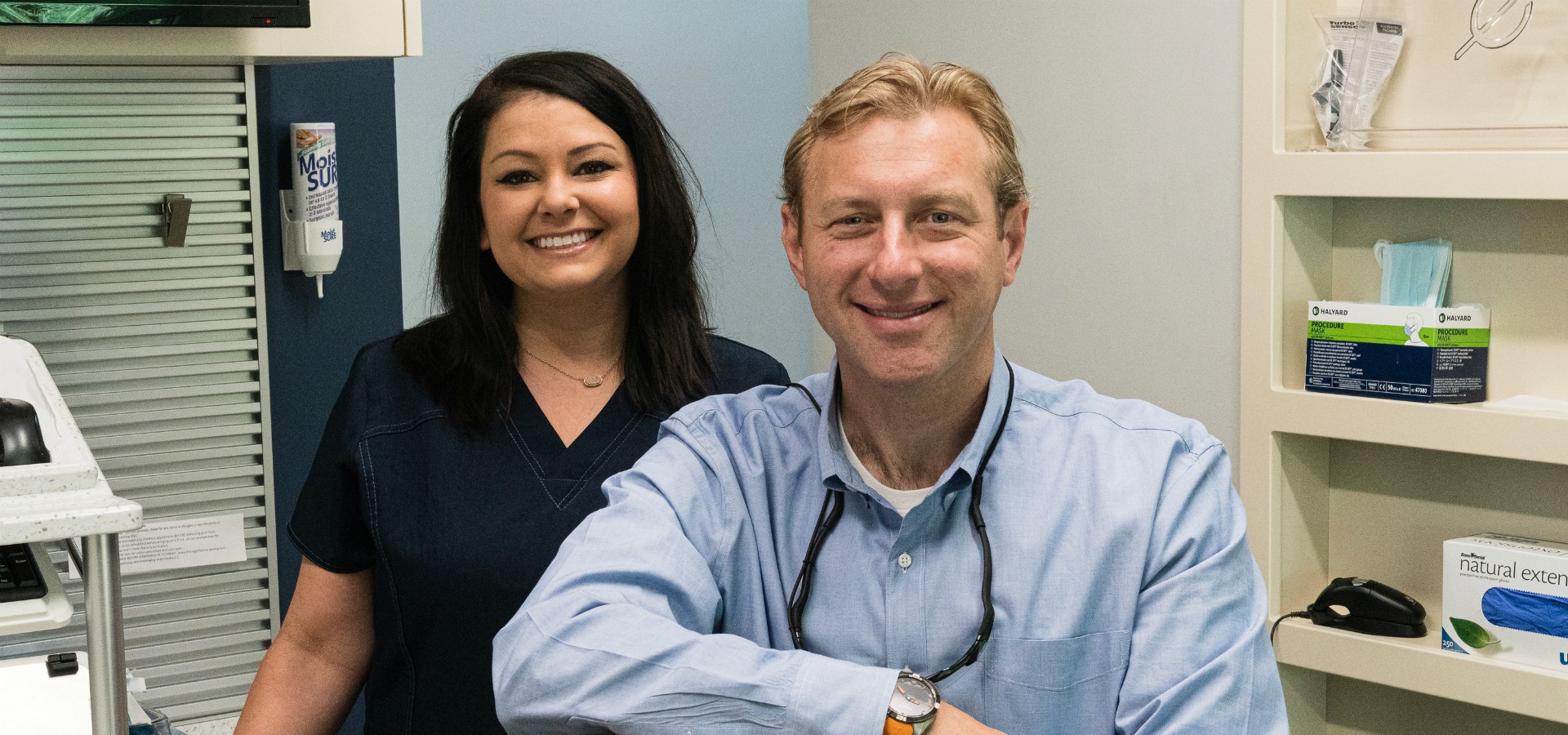 Services
Today we offer a generous helping of dental services for patients of all ages.
Our purpose is to help you:
Keep your natural teeth
Improve your appearance
Promptly manage dental emergencies
To achieve this we offer a wide variety of options. We look forward to working with you and helping you achieve the smile of your dreams (or at least fix that hole that's bugging you).
For Children
We offer pediatric dentristry services to children of all ages. You can read more about these services here.
For Adults
In dentistry, "adults" includes everybody from adolescents to adults over 100 years old. Because modern dentistry allows people to retain their own teeth much longer, dentures are no longer inevitable for most patients. Factors like prevention and education, the multitude of treatments, excellent dental materials, and new dental technologies all play a role in your capacity to preserve and maintain your teeth for a lifetime. Common treatments for adults include:
Cleanings
Most adults receive a cleaning every 6 months with some individuals requiring more frequent cleanings. The frequency depends on your diet as well as your daily dental hygiene habits.
Radiographs
We are fully digital! Digital x-rays, or "radiographs," are important for seeing what is undetectable to the naked eye. The earlier we can find cavities, the smaller the filling and the stronger your tooth! Radiographs help us achieve this. Sometimes the cavities we find in dental radiographs are so small that they are reversible with very simple treatments like fluoride varnish. Dr. Bill follows the American Dental Association's guidelines regarding how often we update radiographs for patients.
Examinations
With each checkup we conduct an exam, talk prevention/education, and even do diet counseling. We talk about oral conditions of the teeth and gums and what can be done to improve them.
Emergency Dental Care
Teeth seem to break at the most inopportune moments. Whether a toothache has escalated and become a bother, or you broke a tooth or an old filling, Dr. Bill will be there to take care of you and get you back to a point where you are comfortable and can smile with confidence.
Teeth Whitening
Many options exist to whiten teeth. What we offer in our practice is a combination of take-home therapies and in-office tooth whitening. Our in-office whitening brightens and bleaches your teeth rapidly (less than 30 minutes) and in hundreds and hundreds of delivered treatments has not resulted in any tooth sensitivity. We also fabricate bleaching trays (custom fit flexible clear retainers) that are used at home with lower strength peroxides to safely bleach your teeth at home.
Fillings
We do predominantly white fillings or tooth-colored fillings, but occasionally the best thing to do is a silver filling. It's rare but it does happen.
Crowns and Bridges
You've probably heard of these as "caps." When a tooth is badly broken down, missing a cusp, or has a cusp fracture, the tooth often needs a crown. A bridge fills a space left over from a missing tooth. In most cases we can strengthen your tooth or teeth with CEREC crowns or same-day crowns. We mill out the crowns from digital scans of your teeth right in the building. You can read more about our crown and bridge services here.
Veneers
Veneers are conservative treatments that are designed to restore what is visible in your smile to beautiful straight and bright teeth. Veneers only involve the front part of your tooth.
Invisible Orthodontics like Invisalign
Sometimes a patient wishes to have some front teeth straightened up or a crooked tooth turned. This is often possible with orthodontics like Invisalign. We can help you with this treatment as well if that is your interest.
Dentures and Partials
Nobody likes to talk about dentures or partials but they are effective ways to restore a smile when there are few other options. Both are economical approaches to replacing many problem teeth. Sometimes dentures are attached to dental implants and these are called overdentures. We do overdentures more often than regular dentures.
Extractions and Tooth Removal
Extractions or removing teeth is sometimes needed to maintain a patient's oral health. Sometimes these treatments are required because of gum problems, or fractures, or just severe cavities. The good news with extractions and that with modern technologies and techniques, the process is much easier on the patient than it used to be in years past. There are many excellent new technologies and tools that we use to make the experience of having an extraction a better experience.
Bone Grafting
Bone grafting typically occurs when a tooth is removed and we plan on using dental implants to restore the missing tooth.
Dental Implants
Dental implants help solve challenging dental problems that provide long-lasting solutions and feel just like natural teeth. Truly amazing.
Root Canals
Yep, Dr. Bill does them! Please let us take care of things before they really start to hurt. You can read more about our root canal therapy treatments here.
Periodontal Gum Disease Treatment
Gum disease worse than gingivitis occurs in approximately 10-20% of all Americans. The NHANES survey, a very large 2010 study, noted perio disease incidence of 36% for adults! Should you be diagnosed with perio problems, we will educate you on causes, treatment options, and preventing worsening conditions. You can read more about our periodontal therapy services here.
CEREC dental
"Chairside Economical Restoration of Esthetic Ceramics" Cerec technology allows dentists to restore a patient's tooth in the office in a single visit. Dentists use CEREC scanners and mills to design and create a strong yet beautiful crown that can fit over a broken or problematic tooth. You can read more about our CEREC dental services here.
This list is not exhaustive, but this gives you a sample of the many services offered at DurhamDDS.
Emergency Dental Care
We understand dental emergencies can often be incredibly painful. Some of our emergency dental services include:
Managing/fixing toothaches
Controlling abscesses or infections
Rebuilding broken teeth
Using CEREC to restore teeth with same day crowns
Removing teeth as necessary
You can reach out to our office at any time by dialing (919) 286-0779. If you call early in the day, it is our goal to see you the same day and manage your problem the same day. We aim to deliver pain relief during the initial emergency appointment.