Durham Dentist & DurhamDDS President
The short story
Dr. Bill is an artist with a gentle touch, an engineering mind, and an outgoing personality. The profession of dentistry has offered him a perfectly-matched outlet to use his natural talents.
A long winding road
Dr. Bill grew up in Ann Arbor, Michigan. He attended the University of Michigan College of Engineering where he was also a three-year starter and captain for the Men's Lacrosse Team.
Prior to becoming a dentist, Dr. Bill was a global business professional. As he was considering changing careers, his company asked him to move to Singapore. But instead, Dr. Bill decided to pursue dentistry, and the rest is history.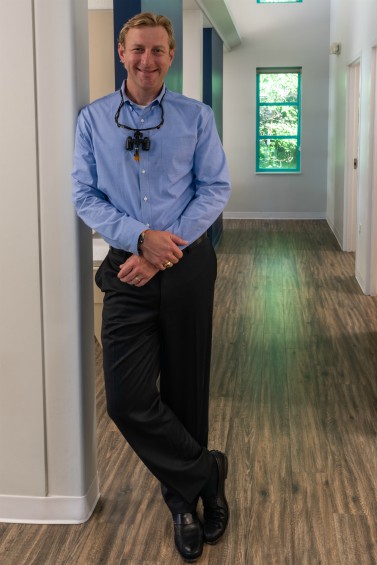 Dr. Bill graduated with honors from the University of North Carolina School of Dentistry. His personality and temperament combine a people-person style, the precision and attention to detail of an engineer, and the eyes and hands of an artist. Dr. Bill is a straight shooter who will communicate clearly and directly with you about your options, their pros and cons, and give you the information you need to make the right decision about your oral health.
Dr. Argersinger is active in the North Carolina Dental Society, the American Dental Association, the Triangle Dental Study Club, and the Guy Willis Dental Study Club.
Dr. Argersinger is also privileged to have earned a position as a clinical consultant for The Dental Advisor (www.dentaladvisor.com), one of dentistry's leading publications concerning clinical performance of new technologies and materials.
A heritage of dentistry
Dr. Bill comes from a family of dentists. His grandfather graduated from the University of Michigan School of Dentistry in 1953 and opened a practice in Grosse Pointe, MI. Dr. Bill's mom was a hygienist, and her brother (Dr. Bill's uncle) is also a dentist (UM DDS '83).
Dr. Bill and his wife Alana have two young daughters, Ellen and Millie. They enjoy engaging the curiosity of their young children and weaving their lives deeper into the fabric of North Carolina. Dr. Bill is an avid sportsman who enjoys kite-surfing, golf, fishing, and an occasional vigorous chess game.