Kids and adults have a very different view of what "really good" brushing is. A lot of it has to do with dexterity in your child and being attentive to where they are brushing and for how long. If you watch your kids brush their teeth, they may brush 3-4 teeth in the front and their tongue for 10 seconds…yeah, I don't think that's going to cut it! For example, check out this video of my kids attempting to brush their teeth on their own…
As you heard in the video, I tried to narrate where my kids were brushing. Keeping your kids engaged while you brush their teeth will improve their own attentiveness to what "really good" brushing actually is.
You can define where you are brushing by using words like: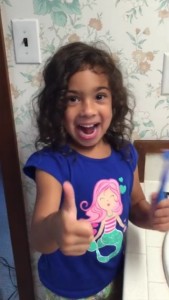 insides (near tongue)
outsides (near cheek)
topsides/upsides (surface of crown on top teeth)
downsides (surface of crown on bottom teeth)
frontsides (front teeth)
backsides (back teeth)Each of these "sides" should be brushed for about 30 seconds (that 2 minute rule your dentist told you as a child was no joke!) Maybe even set up a timer and let your kids tell you when its time to switch sides. See, brushing can be fun!
Just remember, you are your child's coach when it comes to proper dental care. By assisting in their brushing for the first few years of their lives you are not only instilling them with healthy oral care habits, but also preventing yourself from paying for any dental issues later on!
If it is time for your little one to start seeing the dentist or you are seeking advice on how to care for your child's teeth then let DurhamDDS help you out! We offer a generous amount of dental services for patients of all ages. To set up an appointment call our office at 919-286-0779 or visit durhamdds.com for more information.
Did you find this article about kids brushing "really good"? Then please like us on Facebook or +1 us if you are a gmail-er. It is super easy to do, right at the top of the page! Thanks, Dr. Bill